Realme are always a safe bet if you are on the lookout for an affordable phone. They always offer a fantastic specification for the money.
Following the launch of the superb Realme 8 Pro with its flagship-like 108MP primary camera, the more affordable Realme 8 5G has finally become available in the UK.
Price and Availability
Realme have launched the phone at just £199 for the 4GB/128GB model but this is available for a limited early bird price of just £179, making it the cheapest 5G phone on the market right now.
For the 6GB/128GB model, the price is £249 with an early bird offer of £229
The Xiaomi Mi 10T Lite has previously been this price but is currently £199 with more RAM but less storage.
Realme 8 5G vs Realme 8 vs Realme 8 Pro
The Realme 8 series is a bit of a confusing line-up with a big difference across the range,
While the Realme 8 5G may have the best chipset with 5G connectivity, it has the worst camera and arguably a worse display. The 90Hz IPS display will be better for gamers, though, and this phone will be the best pick for keen mobile gamers.
The Realme 8 and 8 Pro are more closely related, both offering an IPS display. The Pro uses the Qualcomm Snapdragon 720G chipset while the 8 uses MediaTek Helio G95, in reality, you will likely see no difference in performance with these at all.
The Realme 8 Pro has that massive 108MP Samsung sensor making it one of the best options on the market at this price for anyone keen on taking photos.
The Realme 8 will also take excellent photos, but its 64MP sensor won't quite compete.
Full Press Release
Realme, the world's fastest-growing smartphone brand, has today launched the highly anticipated realme 8 5G in the UK, featuring the UK's first MediaTek Dimensity 700 5G processor with dual 5G dual Standby. A first for the affordable smartphone segment, realme 8 5G's Dimensity 700 5G processor delivers an extraordinary 5G performance, with a 90Hz Ultra Smooth Display, 5000mAh massive battery with smart 5G power-saving, and 8.5mm super-slim design, providing an unmatched user experience.
As the most affordable 5G smartphone in the market, realme 8 5G 4+64GB is priced at £199, with an early-bird special offer of £179. realme 8 5G 6+128GB is priced at £249, with an early-bird special offer of £229. realme 8 5G is on-sale in the UK from May 20th, with the early-bird special offer running from May 20th to May 23rd.
realme also launches realme 8 in the UK today, which boasts a leap-forward camera with 64MP sensor, trendsetting photography features, and more. realme 8 4+64GB is priced at £199, and realme 8 6+128GB is priced at £219, on-sale in the UK from today, May 12th.
realme solidifies its stance as a 5G leader with this latest release, underscoring its mission to expand the 5G smartphone landscape in key markets like the UK and Europe. As a 5G democratiser, realme provides the speed of infinity to smartphone users with realme 8 5G. Paired with its affordable price, realme 8 5G is a stand-out 5G device in the mid-range market.
realme 8 5G – Speed of Infinity
realme 8 5G is equipped with MediaTek Dimensity 700 5G processor supporting 5G Dual SIM Dual Standby, enabling the phone to support 5G SIM cards online by 5G network. realme 8 5G is the thinnest 5G smartphone in its segment, with an 8.5mm super-slim body and 16.5cm (6.5″) 90Hz Ultra Smooth Display. The smartphone has a 5000mAh massive battery, along with a Smart 5G Power Saving mode. With the 18W type-C quick charge, the 5000mAh battery can be fully charged at a rapid speed. realme 8 5G also boasts an advanced 48MP Nightscape Camera, comprising of a 48MP Ultra HD Main Camera, a B&W portrait lens, and a 4cm macro lens. It features a 16MP Ultra-clear front camera which is ideal for capturing selfies. realme 8 5G also comes with a Fast Side Fingerprint Scanner and a new Dynamic RAM Expansion Technology (DRE) that converts storage/ROM into virtual RAM to address the drawbacks caused by insufficient RAM, in addition to creating more memory.
realme 8 – Capture Infinity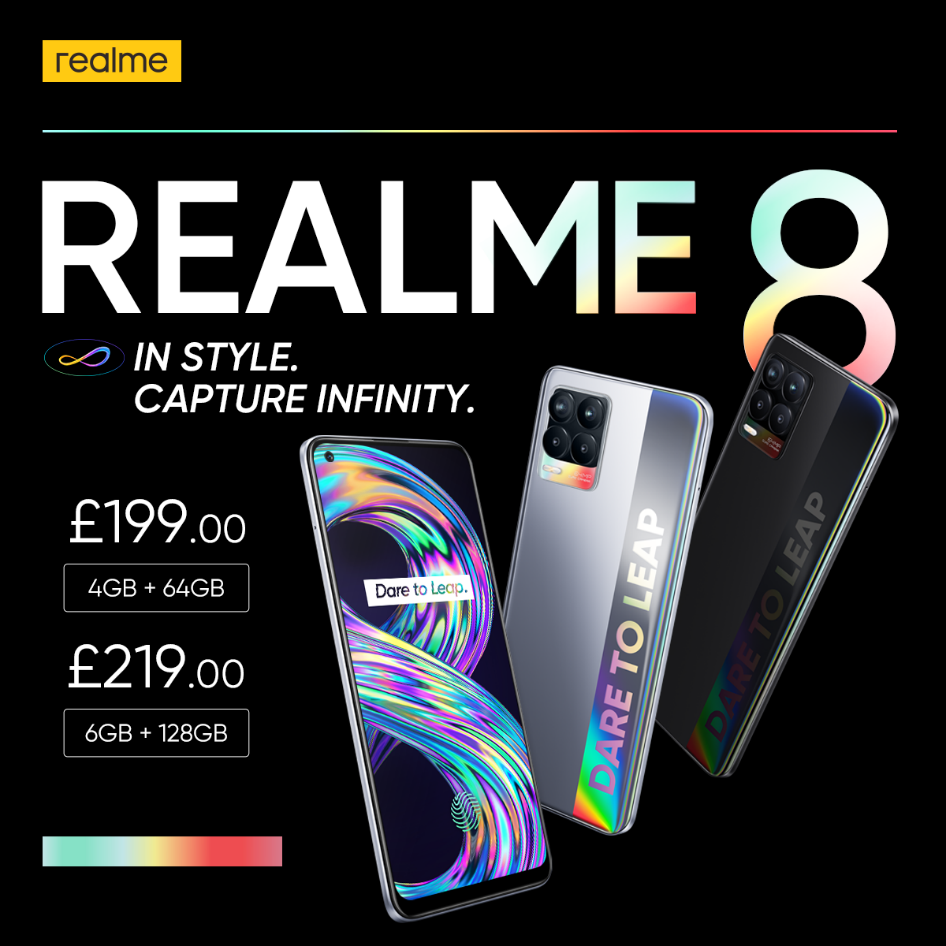 realme 8 features a 64MP AI Quad Camera, 30W Dart Charge, a massive 5000mAH battery, powerful Helio G95 processor, and a 6.4-inch Super AMOLED display.
realme 8 5G will be available from May 20th at realme.com/uk and Amazon UK.
realme 8 is available from May 12th at realme.com/uk and Amazon UK.
I am James, a UK-based tech enthusiast and the creative mind behind Mighty Gadget, which I've proudly run since 2007. Passionate about all things technology, my expertise spans from computers and networking, to mobile, wearables, and smart home devices.
As a fitness fanatic who loves running and cycling, I also have a keen interest in fitness-related technology, and I take every opportunity to cover this niche on my blog. My diverse interests allow me to bring a unique perspective to tech blogging, merging lifestyle, fitness, and the latest tech trends.
In my academic pursuits, I earned a BSc in Information Systems Design from UCLAN, before advancing my learning with a Master's Degree in Computing. This advanced study also included Cisco CCNA accreditation, further demonstrating my commitment to understanding and staying ahead of the technology curve.
I'm proud to share that Vuelio has consistently ranked Mighty Gadget as one of the top technology blogs in the UK. With my dedication to technology and drive to share my insights, I aim to continue providing my readers with engaging and informative content.
Last update on 2023-11-28 / Affiliate links / Images from Amazon Product Advertising API