Garmin has just released a YouTube video announcing the Fenix 6 series and confirming everything that has been reported previously.
The video doesn't reveal too much but it does confirm four features that have been heavily leaked in the past few weeks.
[content-egg module=Amazon template=list]
What's new with the Garmin Fenix 6?
Split product line into two portions: Pro and Base. Pro has WiFi, Maps, Music, Golf Maps
There are three sizes of watches: 42mm (Fenix 6s), 47mm (Fenix 6), 51mm (Fenix 6X)
Adds solar charging to Fenix 6 Pro Solar: Termed "Power Glass", this will increased battery life on sunnier days
Adds Trendline Popularity Routing Visibility (Pro): This allows you to actually see the 'heatmaps' on your device
Adds map display themes: This includes high contrast, popularity, marine, dark, and outdoor.
Adds new widget glances concept: Basically shrinks widgets to 1/3rd the screen size, so you can see three at once
Adds new PacePro feature: This replaces old-school paper race pace bands, creating pace targets for race based on grade/reverse splits/etc…
Adds new Power Manager feature: Gives detailed information about the impacts/tradeoffs of features on battery life
Adds new Power Modes feature: Allows you to create custom power/battery modes, with time remaining per activity
Adds new MARQ Expedition ultra-long mode: For multi-week GPS activities. Basically shuts off everything except reduced rate GPS tracking
Adds ski resort maps: These started on the MARQ series, with 2,000 ski resorts worldwide
Adds golf maps pre-loaded: Previously you had to manually load these one by one, also, more detailed golf features
Adds support for wrist based swimming HR: This was teased recently on the FR945 beta updates
Adds new ultra-low battery mode: Gets up to 80 days of battery life, but super basic watch functionality only
Revamped ClimbPro with new coloring: Now matches the Edge 530/830 styling
Increased data fields per page: Up to 8 fields on the 6X, and up to 6 fields on the 6S/6
Increased screen size and reduced bezel (varies by model, but up to 36% bigger screen size on the 6X
Reduced 'lug to lug distance' on Fenix 6S: This should help those with smaller wrists, more on this later
Reduced thickness of all devices. The 6S shrunk by 10%, the 6 by 7%, and the 6X by 15%.
Changed from MediaTek GPS chipset to Sony GPS Chipset: Like every other new Garmin 2019 device
Battery life increased: Up to 80 days in battery saver mode for 6X, and up to 120hrs in max battery mode for 6X, all before solar (see full chart below)
Previous coverage:
Pro models
The new watches will now have a Pro and Standard model. The video doesn't state what this includes but it is known that the Standard models lack Wi-Fi and onboard storage for music.
| | Standard | Pro | Sapphire | Sapphire Solar |
| --- | --- | --- | --- | --- |
| Maps (basic) | No | Yes | Yes | Yes |
| Maps (skiing) | No | Yes | Yes | Yes |
| Maps (golf) | No | Yes | Yes | Yes |
| Internal storage | 64 MB | 32 GB | 32 GB | 32 GB |
| Music player | No | Yes | Yes | Yes |
| Deezer / Spotify | No | Yes | Yes | Yes |
| Wi-Fi | No | Yes | Yes | Yes |
| Watch glass | Gorilla Glass | Gorilla Glass | Sapphire Glass | Sapphire Glass |
| Solar / Power Glass | No | No | No | Yes |
PacePro
The video also reveals the new PacePro feature that will give you grade-adjusted pace guidance throughout your activity plus environmentally adjusted VO2 max and training status estimates. This should work as an alternative to power, similar to the functionality provided by Stryd.
Battery Modes
The new battery modes have also been confirmed. Along with UltraTrac for extended GPS usage, there will be three smartwatch modes that can keep the watch going for weeks on a single charge.
| | 6S Basic / Pro / Sapphire | 6 Basic / Pro / Sapphire | 6X Pro / Sapphire | 6X Sapphire Solar |
| --- | --- | --- | --- | --- |
| GPS | 25 h | 36 h | 60 h | 60 + 6 h |
| GPS + music | 6 h | 10 h | 15 h | 15 + 1 h |
| UltraTrac | 50 h | 72 h | 120 h | 120 + 28 h |
| Smartwatch mode | 9 days | 14 days | 21 days | 21 + 3 days |
| Exposure mode | 20 days | 28 days | 46 days | 46 + 10 days |
| Economy mode | 34 days | 48 days | 80 days | 80 + 40 days |
Fenix 6X Pro Solar
Finally, the much talked about Solar model which will sit at the very top of the Fenix range. In normal usuage, this will add approximately 1 day to the battery life, 6 hours for normal GPS mode, 1 hour for GPS & music, and up to 80 days in the battery saver mode.
Pricing and Availability
The watches are available to order now from Garmin with shipping in 5-8 weeks.
[content-egg module=Amazon template=list]
Prices are as follows:
| | 6 Series |
| --- | --- |
| 42mm S | $599 |
| 42mm S Pro | $699 |
| 42mm S Sapphire | $899 |
| 42mm S Sapphire Luxury Straps | $899 |
| 47mm | $599 |
| 47mm Pro | $699 |
| 47mm Sapphire | $799 |
| 47mm Sapphire Titanium | $899 |
| 51mm X Sapphire | $849 |
| 51mm X Solar | $999 |
| 51mm X Solar Titanium | $1,149 |
Garmin Product Listing:
fēnix 6X – Pro Solar Edition
As our first watch to offer solar charging, fēnix 6X Pro Solar puts no limits on how far you can go. Its 1.4" Power Glass™ lens uses sunlight to extend battery life for off-grid adventures.
Sunlight gives your watch a free energy boost, extending time between charges
Dynamic PacePro™ feature helps you run smarter over various types of terrain
Preloaded ski maps cover more than 2,000 resorts around the world
Power manager feature shows how adjusting settings can extend battery life
Wrist-based heart rate¹ and Pulse Ox² sensors add insight to your fitness activities
Sync your favorite streaming services, and listen to music without your phone
Quality by Design
Rugged yet sophisticated design features a 1.4" solar-charged display that's 36% larger than previous fēnix models. And it's tested to U.S. military standards.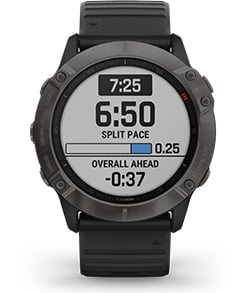 PacePro Technology
A first-of-its-kind PacePro feature helps keep you on pace with grade-adjusted guidance as you run a course.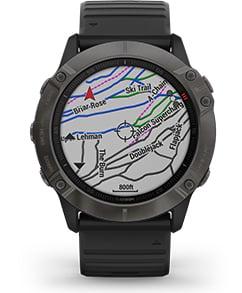 TOPO and Ski Maps
Use topographical maps for North America to navigate your adventures and view run names and difficulty ratings for 2,000 worldwide ski resorts.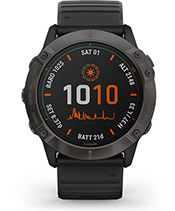 Power Manager
View how various settings and sensors impact your watch's battery life, so you can make battery-extending changes on the fly.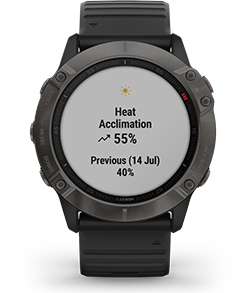 Performance Metrics
View advanced training metricsthat include running dynamics¹, heat- and altitude-adjusted VO2 max, recovery advisor and more.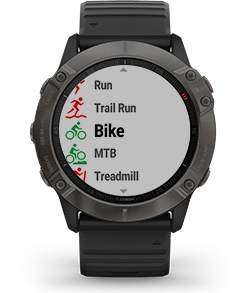 Sports Apps
Use preloaded activity profiles for trail running, swimming, running, biking, hiking, rowing, backcountry and resort skiing, golfing and more.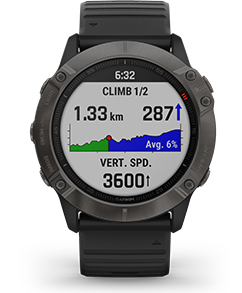 ClimbPro Feature
Use ClimbPro ascent planner to see real-time information on your current and upcoming climbs, including gradient, distance and elevation gain.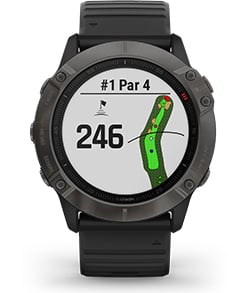 Golf Courses
Access full-color CourseView maps for more than 41,000 preloaded golf courses around the world, and get button targeting and the PlaysLike Distance feature.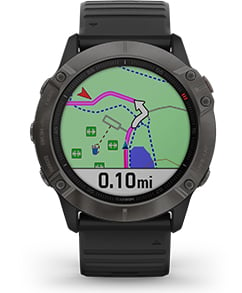 Turn-by-turn Navigation
Follow a route or course with help from turn-by-turn directions, which let you know ahead of time when the next turn is coming.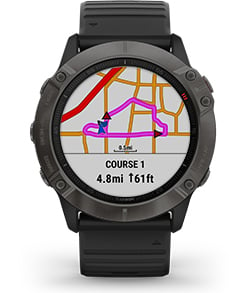 Round-trip Routing
Enter a distance you want to travel, and get suggested routes that will bring you back to your starting point. Trendline™popularity routing helps you find the best local paths.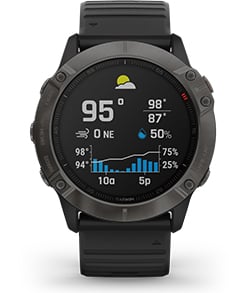 Multi-GNSS Support
Access multiple global navigation satellite systems (GPS, GLONASS and Galileo) to track in more challenging environments than GPS alone.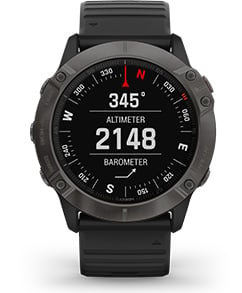 ABC Sensors
Navigate your next trail with ABC sensors, including an altimeter for elevation data, barometer to monitor weather and three-axis electronic compass.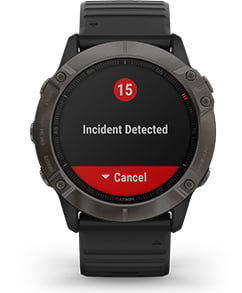 Safety and Tracking Features
If you feel unsafe or if your watch senses that an incident occurred, assistance and incident detection features send your location to emergency contacts.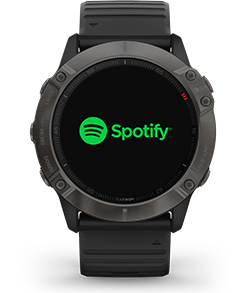 Music Apps
Store up to 2,000 songs, or access streaming apps from your compatible services, including Spotify®, Deezer and Amazon Music, and listen through headphones with BLUETOOTH®technology.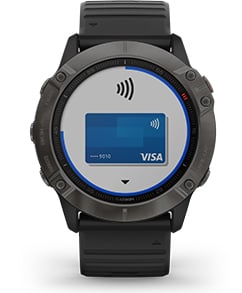 Garmin Pay Service
Breeze through checkout lines with Garmin Pay contactless payment solution through participating providers.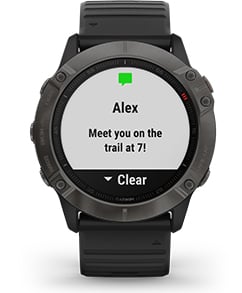 Smart Notifications
Receive emails, texts and alerts right on your watch when paired with a compatible device.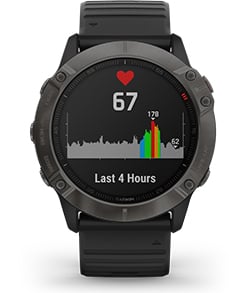 Wrist-based Heart Rate
Enhanced optical heart rate1technology gauges the intensity of your fitness activities as well as heart rate variability to calculate your stress level score. It also tracks under water without a heart rate strap.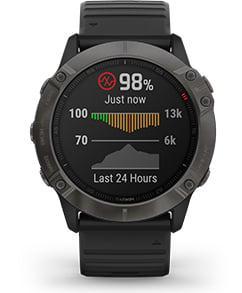 Pulse Ox Sensor
For altitude acclimation or sleep monitoring, a Pulse Ox² sensor uses light beams at your wrist to gauge how well your body is absorbing oxygen.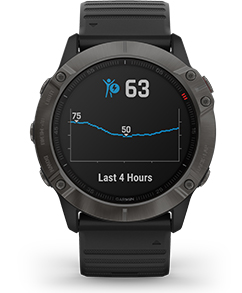 Body Battery Energy Monitor
Optimize your body's energy reserves, using heart rate variability, stress, sleep and other data to gauge when you're ready to be active or when you may need to rest.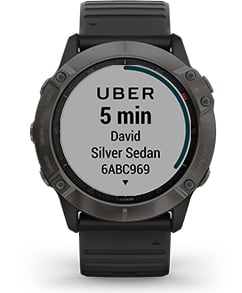 Connect IQ™ Store
Download custom watch faces, add data fields, and get apps and widgets from the Connect IQ Store.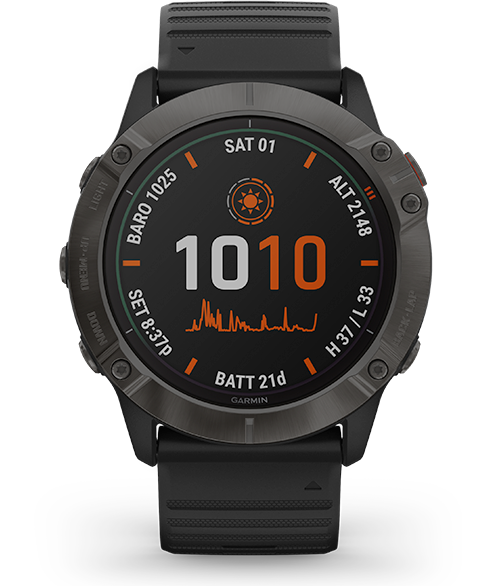 Expedition Mode
Trek far and wide between recharges. Expedition mode, an ultralow-powered GPS reference, lasts for weeks.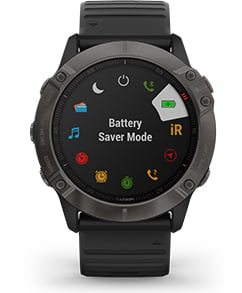 Battery
Internal, rechargeable lithium battery provides up to 21 days of battery life in smartwatch mode with an additional 3 days when solar charging4, and 15 hours in GPS mode with an additional hour when solar charging5.
I am James, a UK-based tech enthusiast and the creative mind behind Mighty Gadget, which I've proudly run since 2007. Passionate about all things technology, my expertise spans from computers and networking, to mobile, wearables, and smart home devices.
As a fitness fanatic who loves running and cycling, I also have a keen interest in fitness-related technology, and I take every opportunity to cover this niche on my blog. My diverse interests allow me to bring a unique perspective to tech blogging, merging lifestyle, fitness, and the latest tech trends.
In my academic pursuits, I earned a BSc in Information Systems Design from UCLAN, before advancing my learning with a Master's Degree in Computing. This advanced study also included Cisco CCNA accreditation, further demonstrating my commitment to understanding and staying ahead of the technology curve.
I'm proud to share that Vuelio has consistently ranked Mighty Gadget as one of the top technology blogs in the UK. With my dedication to technology and drive to share my insights, I aim to continue providing my readers with engaging and informative content.
Last update on 2023-12-04 / Affiliate links / Images from Amazon Product Advertising API